COMBINING A RACK AND TRUCK BED COVER HAS NEVER BEEN EASIER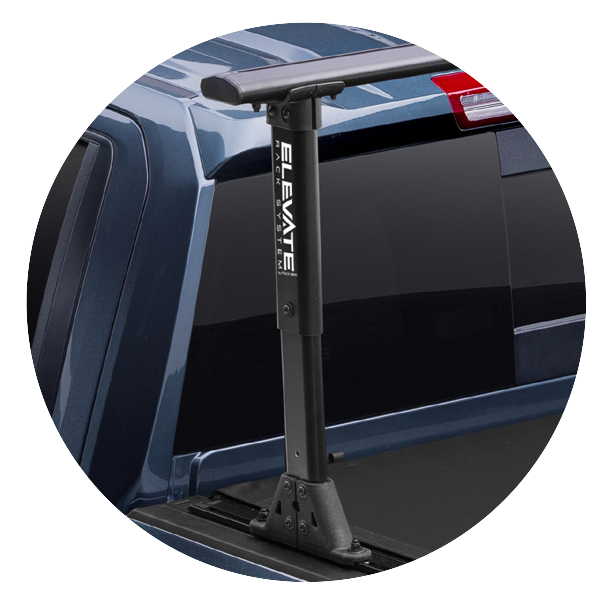 That's right, the ELEVATE RACK SYSTEM will help plan your next adventure with ease. Maybe you're a true weekend warrior with a passion for kayaking or biking. Perhaps you're planning your next family vacation to the mountains or lake.
Wherever you're going, whatever you're doing, the ELEVATE RACK SYSTEM delivers more storage options and overall cargo space to your pickup truck. Helping ensure your next journey provides maximum fun & adventure.
This one of a kind rack system is comprised of very few parts. Simply choose from one of two rack options: the ELEVATE FIXED RACK is a great choice for truck owners looking for a simple yet solid solution to their cargo needs. For those in search of added adjustability and versatility, the ELEVATE TELESCOPING RACK fits the bill.
To install your rack, choose the ELEVATE TS RAILS that best match the length of your truck bed.
Once installed, just slide the rack into the integrated T-Slot channel and you're done.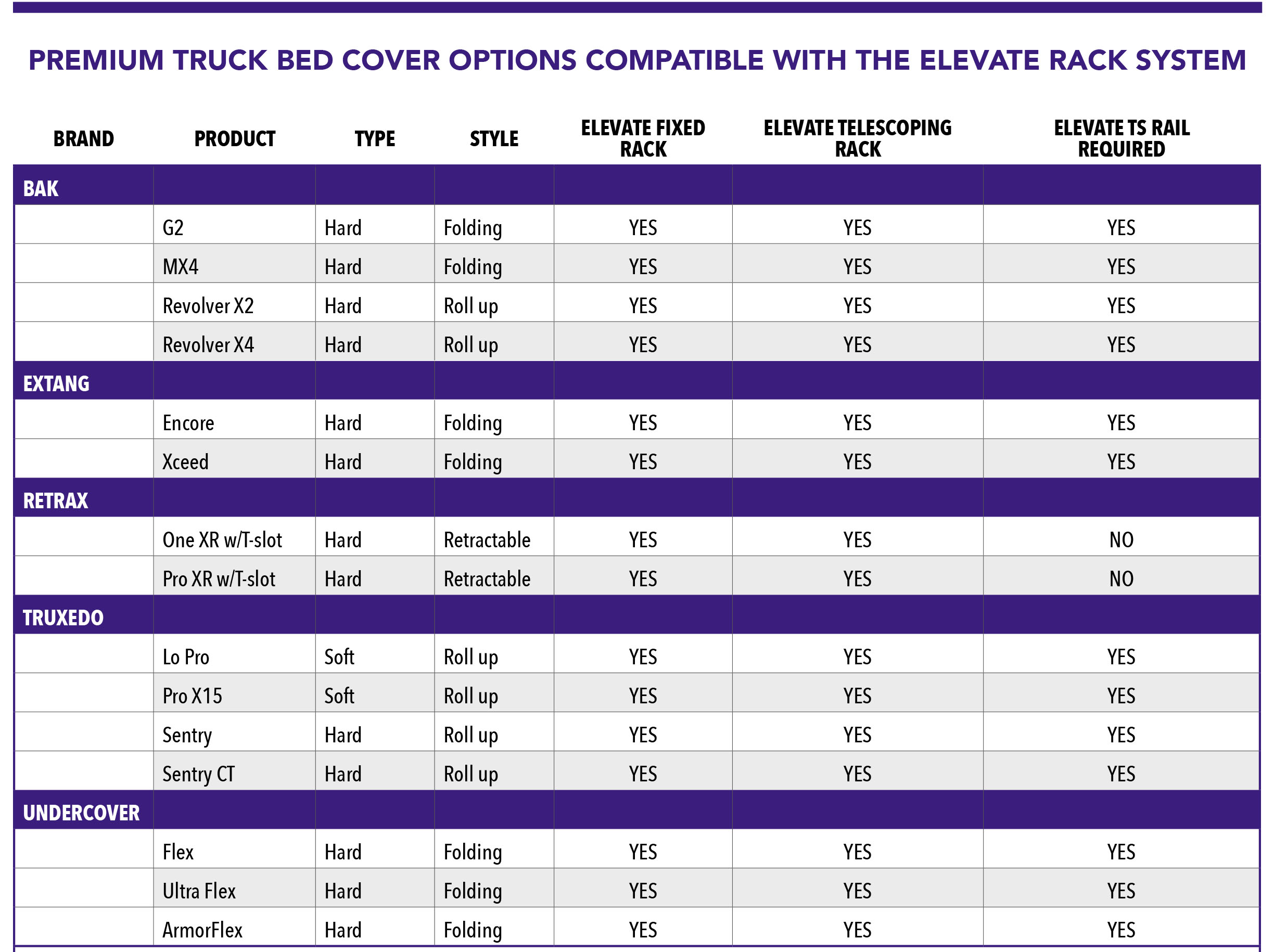 The added bonus you get when choosing this unique system is the ability to incorporate your
favorite Truck Hero truck bed cover into the mix. In fact, both ELEVATE racks allow for the full
functionality of your cover – be it a roll up or folding style. In the end, this means more storage
and cargo possibilities than ever imagined. (See compatibility chart on back
for more details.)
NOTES:
ELEVATE racks will allow for the full function of your roll up and folding truck bed cover
T-Slot equipped tie downs, mounts and cargo accessories can be used with the ELEVATE RACK SYSTEM
Most inside mount truck bed covers can be installed by using ELEVATE TS RAILS
ELEVATE RACK LOAD RATING
• Maximum on road rating of 750 lbs.
• Maximum off road rating of 250 lbs.
Warranty:
The Elevate Rack System Comes with a Limited Lifetime Warranty! There you go! A complete Package!
Check Out The Elevate Rack System in SEMA 2019
What Our Customers Say About Us
We love getting pictures like this after you use our tonneau cover search engine and find the best deal!
Thanks for the shout out, Antonio!
"I love my new cover and it was pretty easy to install… even this Gramma had it installed in a little over an hour… you guys are the best… I'm sure my Son-in-law will be ordering one soon… thanks for the super fast shipping!"
"I love my hard 2.0 cover & can't believe the quick service & delivery. It was less than 12 hrs."
(Ray's delivery was of a typical speed. kind of cool when that happens)