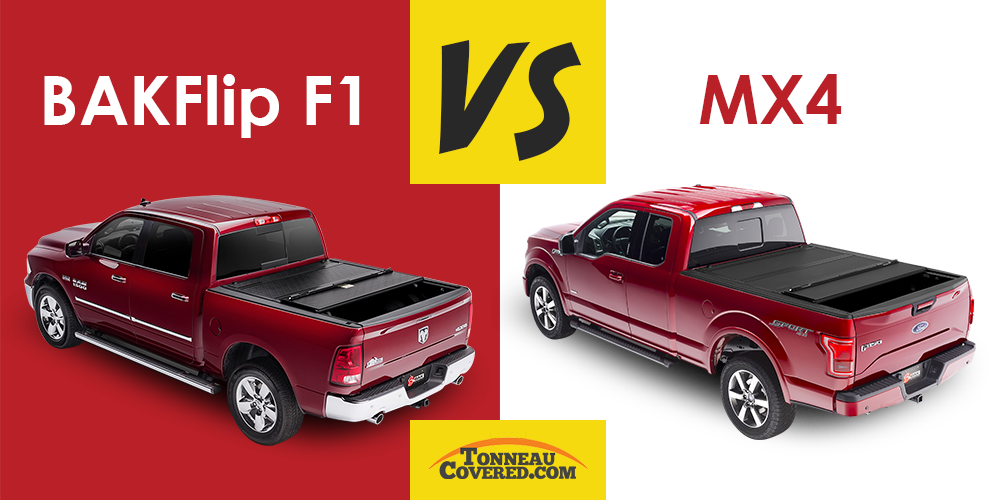 More often than not, truck owners invest in a high-performing truck only to see it all dirty and damaged in just a few days. Worse, some truck owners are seen frustrated over the valuable stuff thieves stole from the back of their truck.
If you have recently bought a truck, you shouldn't have to worry about these things.
All you need is a good-quality truck bed cover and you're all set for long miles of adventure, fun, and thrill.
It's important that you realize the importance of and invest in a truck bed cover before any tragedy happens. It will protect your vehicle against harsh weather conditions, water and dirt, and of course, thieves.
Now, there is a wide variety of tonneau covers available in the market for you to choose from. However, we see many truck owners trying to decide between the BAKflip F1 and MX4.
If you have never heard of the BAKflip covers, let's tell you that they are among the most popular covers today. Both the F1 and MX4 models have a lot to offer in terms of protection and safety. When it comes to picking one, you'd want to see which one fits your lifestyle best without compromising on your truck's needs.
Both these covers fall right into place to cover your truck bed with a flat surface. Featuring four hard fold-able panels, these covers are super easy to install and usually takes less than an hour.
To help you make the right decision, let's dive in for a comprehensive review featuring the BAKflip F1 vs. MX4.
The BAKflip F1
The BAKflip F1 is a high-grade truck bed cover suitable for both imported and domestic trucks. It is considered as the most refined cover in the BAKflip line, all thanks to the materials used for its construction.
It features a fiberglass-reinforced polymer on top and an impact-resistant aluminum underside for exceptional strength and durability. Despite its kick-ass strength profile, its weight is surprisingly light, making it easier to handle, carry, and move.
The tough epoxy primer and polyester finish make for the ultimate factory-finished look. It also features an advanced latching system for uncompromising safety. Moreover, it has a water drainage system through which the collected water is guided to the bed front and them emptied through the tubes.
The F1 is easy to use and install. It doesn't require drilling, allowing you to attach it within an hour.
The BAKflip MX4
The BAKflip MX4 on the other hand has aluminum panels with its core made of high-density foam. This means that these tonneau covers are also lightweight and ideal for your MPG. they offer easy and quick complete bed access.
The aluminum panels resist scratches, damages, and UV rays. They also give the truck bed cover a gorgeous matte black finish, taking the truck's appearance to another level. Furthermore, the rubber seals promise to keep excess water out.
The MX4 features locking rails, which ensure maximum safety when combined with a locking tailgate. The installation is very easy and doesn't require drilling. The installation of the drain tube, however, may require drilling in some trucks.
The best thing about these BAKflip covers is that they made to fit your truck perfectly and deliver the best results.
Key Features
Let's now compare the key features of the two models to see which one is better for you.
Design and Appearance
The BAKflip F1 and MX4 are quite similar in terms of design and appearance but there are some key differences. The texture of the F1 cover is slightly rough while the MX4 gives a perfectly smooth appearance. Owing to its reputation as the new model, the MX4 has an advanced design that allows the cover to remain latched in position when the tailgate is closed. On the contrary, the F1 has to be lifted up to close the tailgate and then it is snapped into position.
Besides the aesthetics, another key point in the BAKflip F1 vs. MX4 debate is that the former offers more resistance against dents and scratches, and is likely to perform better in harsh weather conditions.
Construction Materials and Finish
Another major difference between the two BAKflip models lies in the materials used for their construction.
The F1 features fiberglass-reinforced panels, which make it highly protective against dents, scratches, and damages. Moreover, these panels offer standard UV protection as well. On the other hand, the MX4 features aluminum panels that ensure premium protection against UV fading. These panels make this truck bed cover very lightweight, allowing fast and easy opening and closing.
As far as the finish of these BAKflip covers is concerned, the F1 has a slight sheen that gives the cover a glossy finish. It isn't only resistant to fading, corrosion, and rust but it also offers cool touch. Whereas, the MX4 has a powder coat finish, giving a stylish matte black look that has a smooth feel to it.
Safety and Security System
The BAKflip F1 is characterized by a refined latching system that guarantees optimal security and protection of the truck bed and cargo when the tailgate is locked. An injection-molded plastic encloses the heavy-duty latches for better performance and improved looks.
The MX4 doesn't have an inbuilt lock system yet it guarantees maximum security. The aluminum panels are not deformed easily and can carry heavy weights. It has a slide latch that secures the cover in position. You only get access to the latch when the tailgate is folded down. For additional safety of the truck bed and cargo, adding a locking tailgate works great.
Weight Capacity
The aluminum panels of the MX4 aren't only lightweight but are also strong enough to withstand up to 400 lbs of weight. The F1 on the other hand is also believed to be able to carry 400 lbs of evenly distributed weight.
Both the tonneau covers are designed to hold a significant amount of load and snowfall. However, for long-term use, it's better to not overburden them.
Product Specifications
Here's an overview of the specifications of the two tonneau covers.
The BAKflip F1
Weight capacity: 400 lbs
Composite material
Glossy black finish
Full bed access
Water drainage system
Textured fiberglass-reinforced top panels
High-grade weather seals
No drill clamp
Easy to use and install
Universal tailgate seal
Cool to touch
Maximum water and damage resistance
The BAKflip MX4
Weight capacity: 400 lbs
Aluminum material
Matte black finish
Quick total bed access
Enhanced side rails
Dual-action tailgate seal
Bolt-on installation; no drilling required
Easy to use
Enhanced rod clips for better clamping
Drain tubes included
Enhanced rubber seal end caps look great and add functionality
Bumpers on top of the cover serve as an extra cushion when folded against the cab
Which Truck Bed Cover Should You Choose?
Based on the comprehensive review, which BAKflip cover do you think will work best for your pickup truck?
Essentially, both the truck covers offer great functionality and aesthetics. They are both highly durable, strong, and carry almost the same amount of weight.
However, if you live in an area where it rains a lot, you should consider choosing the MX4 cover. It is specially designed to resist leakage, ensuring that both your cargo and truck bed remain dry and safe. And if you're looking for a truck bed cover for a vehicle that runs on difficult tracks, the F1 may be a better choice, considering its weight and strength.
Get the Best Price!
If you want to buy a tonneau cover or other parts at affordable prices, we've good news for you. Truck owners are saving up to $100 on premium-quality covers. Get in touch with a parts expert TODAY and get yours!