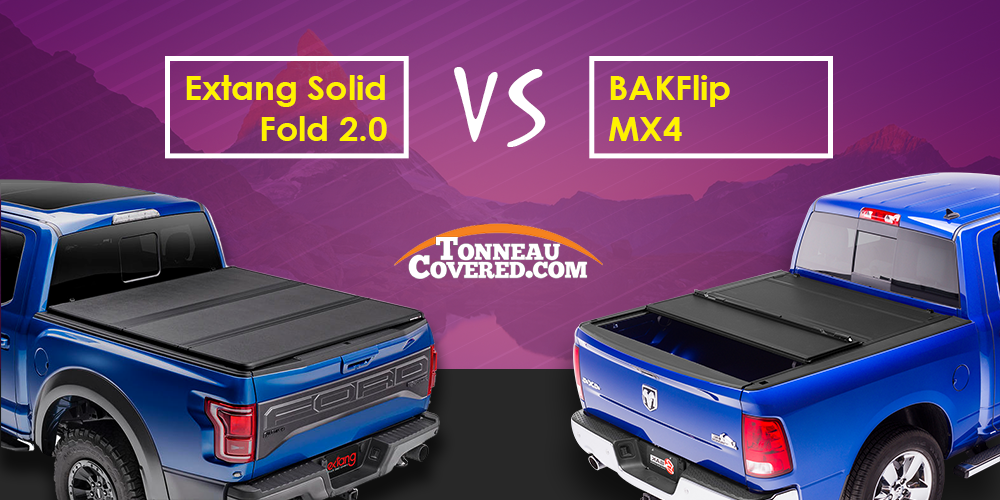 Do you want to protect your truck bed from rough weather? Think it's unsafe to keep cargo lying around the back when you're at a pit stop?
Installing a primer quality tonneau cover will end all your worries. These covers are known to prevent any dents or damages to your truck bed. They also do a stellar job of protecting your goods from sneaky thieves. Best of all, they'll keep your truck bed nice and dry no matter what the weather is.
That's why we suggest that you get a tonneau cover for your pickup truck as soon as possible!
What kind of choices do you have?
Extang and BAK are the top contenders for this purchase. These companies have been manufacturing truck accessories for years now. So you can expect nothing but the best from their end.
In this article, we'll be focusing on their bestselling truck covers― Extang Solid Fold 2.0 and BAKFlip MX4. Our customers tell us that these covers are the most reliable upgrades for their rides. However, people can't decide which one of these is better.
We think that a straightforward comparative guide should set the record straight.
So let's begin!
The Extang Solid Fold 2.0
The Extang Solid Fold 2.0 is a super strong tri-fold truck cover for your trucks. It's re-engineered with aluminum body and polymer panels to give you the ultimate protection. The durability of the polypropylene is said to outlast that of an average aluminum cover.
Apart from that, its design contains a scratch and scruff resistant layer that prevents any outer damage. You'll also love the textured matte finish that gives it a brand new look for years to come. In addition to this, we've got the EnduraShield panels that stop the harmful UV rays, snow and dust from damaging your cargo. It also prevents the truck cover from heating up. So no matter how hot it gets, your cover will remain cool.
The tonneau cover is might be lightweight and manageable, but it can withstand a lot of pressure. So you don't have to worry about damaging it when you load your truck. Plus, it's got an EZ-lock system that snaps on when you open the covers. This feature makes it safer and easier for you to load and unload the truck.
All and all, Extang Solid Fold 2.0 looks like a solid investment for your vehicle.
The BAKFlip MX4
BAKFlip MX4 is one of the innovative inventions of BAK. It's sleek, stylish and has a nice matte finish that remains scratch-free in the long run.
The tonneau cover is made from aircraft-grade aluminum panels with a foam core. This revolutionary design makes it convenient to open and close the truck bed cover with a quad-flip. The core is made from high-density foam that maximizes its durability. The upgraded tailgate gives you easy access to the
truck bed. So you can reach your cargo no matter which side you open the cover from. Plus, the combined latching system ensures that the cover stays in its place when you're using the truck bed.
What's more? BAKFlip MX 4 can shield your truck bed from dangerous UV rays, dust and rain. The cover is doable throughout the year and won't giveaway easily.
Overall, its sleek build, damage-resistant construction, and user-friendly features make it a hit among truckers and drivers everywhere.
Key Features
Here's a comparative analysis of their best specs:
Design and Appearance
Extang Solid Fold 2.0 vs. BAKFlip MX4–which one's more stylish?
BAKFlip MX4 wins this round. Although both truck covers feature a black matte finish, its BAKFlip's smooth design that adds more beauty to the product. You can fit the cover on any truck and it'll still look perfect. In fact, you won't notice the cover from your rear-view window because it blends in with your truck bed.
On the other hand, Extang Solid 2.0 has an amazing scruff-proof matte finish. The only issue is that it isn't as low-profile as the former. It's also got a textured feel to it which won't be liked by owners who prefer a smoother surface.
Construction Materials
The biggest difference between the two tonneau covers is found in their construction. Extang Solid 2.0 is made from TPO panels that are combined with polypropylene. The polymer layer makes it less likely to get damaged by scruffs and scratches. It's also known to stay cool no matter how hot the temperature. It's a characteristic that makes it feasible for drivers who frequently travel in desert areas.
On the other hand, BAKFlip MX4 has a full aluminum body that is quite sturdy. The aircraft grade metal is lightweight and flexible. This makes it more manageable than the latter. However, both covers can deflect UV rays and other environmental threats equally.
Ease of Use
Most people prefer DIY installation over professional servicing these days. That's why these bed covers are pretty popular among truck owners because they fulfill your desire to install it on your own. Both covers have a 'no bolts and drill' installation process.
Their design features clamps and secure latching systems. So all you need to do is fix them in the right place and you're good to go. The simplified installation process makes it easier for you to detach the cover whenever necessary.
Apart from this, there is the issue of opening and closing the covers. In this case, BAKFlip MX4 is slightly more user-friendly than its rival. That's because you can access it from all sides and also open it from the tailgate end without any issues. You won't find the same accessibility in Extang Solid 2.0.
Durability
Which one will last longer?
The tonneau covers are primarily designed to be weather-resistant and hardwearing in all sorts of situation. That's the reason why both of them last longer than makeshift truck bed covers. You won't see the matte finish wearing off anytime soon due to their built-in UV protection.
Despite these plus points, Extang Solid Fold 2.0 does have an edge over BAKFlip MX4 because of its weight capacity. Extang manages to handle over 700 lbs of weight while MX4's capacity is only 400lbs. That's why we think that MX4 might giveaway sooner if you're using the pickup to carry heavy cargo throughout the year.
Product Specifications
Let's have a look at the special specs of each product:
The Extang Solid Fold 2.0
Matte black finish
inch thick EnduraShield panels
Lightweight panels made from durable polypropylene
Blade-style seals
Quick lock clamps
Tri-fold design
Hard wearing design and construction
DIY-friendly installation; no need for drilling or tools
Shields cargo from elements and secures it against damage
Weather resistant and safe to use throughout the year
Fits well with other truck bed equipment
The BAKFlip MX4
Sleek, stylish matte finish offers it a luxury look
Simple installation process ( no drills or tools required)
Easy to fold
Upgraded tailgate for convenience
Sturdy latches that help to unload and load the cargo
Zero slips or damages by sliding covers
Scratch-proof coating for ultimate protection
UV protection helps shield your freight from the sun
Lightweight panels with heavy-duty performance
Robust construction that can withstand all kinds of weather
Compatible with other truck accessories
Let's Sum It Up…
Extang Solid Fold 2.0 vs. BAKFlip MX4–which one should you get?
In our opinion, both truck bed covers come with their own pros and cons. Your purchase depends on your budget and personal requirements. So if you want a strong cover that can withstand bulky cargo then you should choose Extang Solid Fold 2.0. It's also really easy to work with during the hot weather because the lid is cool-to-touch no matter how hot it gets.
On the other hand, if you're interested in getting a tonneau cover that's user-friendly and stylish then BAKFlip MX4 is a solid investment. It gives you almost the same kind of protection as Extang Solid 2.0 and is much easier to maintain.
Are You Planning to Upgrade Your Truck?
You can buy tonneau cover or other truck parts at the lowest prices from Tonneau Covered. We've got a variety of accessories for your vehicle and helpful experts to answer all your questions. Get in touch with us right away!