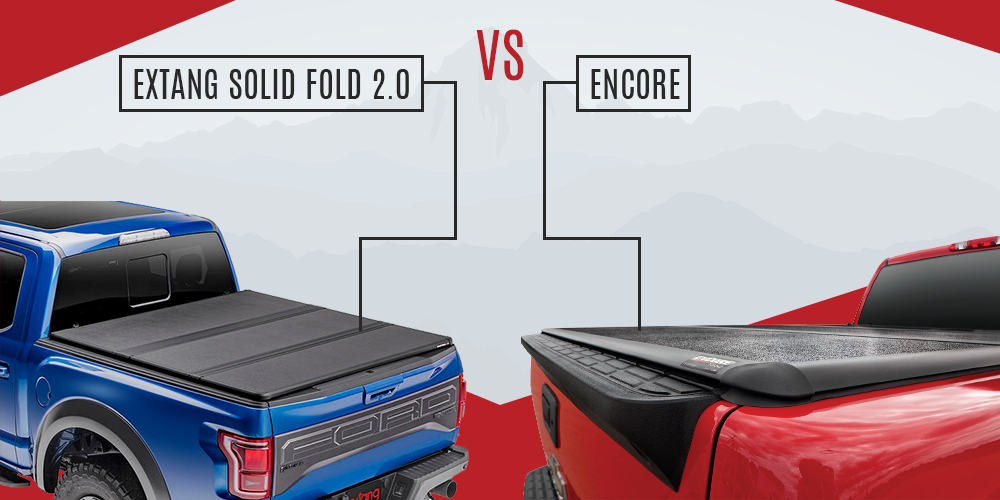 While owning a pickup truck has many benefits, you may constantly be worried about the rough weather conditions and dirt ruining the truck bed. Most importantly, all your stuff is lying in the bed unprotected.
That's where a tonneau cover comes in!
Now, most tonneau covers offer to keep your vehicle dry and clean but not all of them ensure the safety and security of your cargo against rain, storm, and not to forget, the prying hands of thieves.
That's where the Extang Solid Fold 2.0 and Extang Encore come in.
These two are perhaps the best-sellers of the Extang cover line. Both the products bring stellar style, versatility, and unmatched protection to the truck bed. You're likely to hear plenty of good reviews for each cover – and this can make it difficult for you to pick one for your truck.
As a truck owner, you should ideally be looking to compare the unique features each cover offers and see which one suits your truck's needs and your preferences better.
Without further ado, let's dive in for a comprehensive review featuring the Extang Solid Fold 2.0 vs. Extang Encore.
The Extang Solid Fold 2.0
The Extang Solid Fold 2.0 is a tri-fold tonneau cover featuring integrated snap-on seals. Made with dent-resistant TPO panels, it guarantees maximum durability. Not only does it provide excellent resistance against harsh weather conditions but also optimal UV protection.
It is specially designed based on customer reviews, allowing for easy and convenient access to cargo while not compromising on safety.
The cover has a self-contained clamp system for easy and quick installation and removal. The rubber corners provide an extra layer of protection against heavy rain, keeping water out of the truck bed. Considering the features and specifications, it's easy to see why the Extang Solid Fold 2.0 is a top choice of truck owners who focus on both the design and function of a tonneau cover.
The Extang Encore
The Extang Encore is quite similar to the Solid Fold 2.0 model such that it also has a fold-up mechanism. This custom-fit tonneau cover is designed to protect cargo from all sorts of damage and safety risks. The fast, no-drill installation allows the frame rails to clamp to the inside of the truck bedside rails.
The plastic panels of the Extang Encore are reinforced with thick fiberglass, which makes for its lightweight. This cover is designed in an aerodynamic style to reduce wind drag and boost gas mileage.
This low-profile tonneau cover sits about half an inch above the truck bed rails. It works with a one-key lock technology and an automatic latching system for maximum safety.
Key Features
Now that you have a basic idea of what the Extang Solid Fold 2.0 and Extang Encore have to offer, let's compare their main features to help you make the best decision for your truck!
Design and Appearance
Both the Solid Fold 2.0 and Encore are characterized by a tri-fold design, offering easy access from the front and rear end of the truck bed. You can enjoy partial bed access in seconds and lift the folded cover out of the rails for full access.
These versatile covers also feature a self-latching system that allows truck owners to instantly install or remove the cover.
Both the Solid Fold 2.0 and Encore have a sleek design that adds a cool touch to any pickup truck. The rails have rubber corners for preventing water from getting into the truck bed.
The biggest difference between the two models is that the Solid Fold 2.0 sits a bit higher on the bed rails while the Encore is low-profile.
Construction
The Extang Solid Fold 2.0 is made of TPO panels featuring polypropylene that prevent dents, scratches, and other kinds of damage to the cover. On the other hand, the plastic panels in the Encore model are complemented with tough fiberglass. The fiberglass makes the cover extremely lightweight and guarantees easy handling and carrying.
Installation
The installation process for both the Extang cover models is simple. It doesn't require any drilling or structure alterations, ensuring easy, damage-free attachment. The clamps attach directly to the truck bed flanges for quick installation.
These covers come fully assembled in the box, allowing you to install them within a few minutes.
Weather Protection
Both the truck covers have a matte black finish, which makes them capable of withstanding any weather condition.
The Extang Solid Fold 2.0's blade-style seals make sure that your truck bed remains dry in the rainy season. The polypropylene panels have thermal stability, guaranteeing to keep the cover cool to touch on even the hottest summer days. It also offers UV resistance for maximum durability of the cover.
The Extang Encore on the other hand features a new flexible hinge system that isn't only super strong but also water-resistant. The 1-inch aluminum frame is coated for a powder finish.
Product Specifications
Here's an overview of the specifications of both truck covers.
The Extang Solid Fold 2.0
1-inch thick EnduraShield panels
Tri-fold design
Easy lock clamps
Light and durable panels made of polypropylene
Blade-style seals
Durable construction
Matte black finish
Easy and quick installation; no need for drilling or modifications
Protects cargo and stored items against theft and damage
Specially designed for everyday use in all weather conditions
Compatible with popular truck bed accessories
The Extang Encore
EndureShield panels for resistance against denting and fading
Frame and hinges made of powder-coated aluminum
Matte black finish
EPDM seals for protection against water damage
Automatic latching system for safety
Easy and quick removal and reattachment for full bed access
Front and rear bed access
Simple installation
Buckle straps for easy handling
Has a BOLT lock to match your ignition key
The Bottom Line
Both the Extang Solid Fold 2.0 and Encore are expertly engineered, offering a rigid frame and highly resistant panels. Choosing between the two options will depend on certain factors, including the model of your pickup truck, your purpose of use, and of course, your budget.
While both these tonneau covers are suitable for rough weather conditions, the Encore model is a bit more expensive considering its fiberglass structure. It weighs lesser than the Solid Fold 2.0 model and hence, is ideal for truck owners who are looking for maximum convenience. The Encore is an advanced model that has some features not offered by many models. If you want a cover that offers 100% bed access for tall cargo, the Encore model is a steal!
However, if you're looking for a simple yet durable bed cover that does its job, the Solid Fold 2.0 isn't bad either.
Get the Best Price!
If you want to buy a tonneau cover or other parts at affordable prices, we've good news for you. Truck owners are saving up to $100 on premium-quality covers. Get in touch with a parts expert TODAY and get yours!