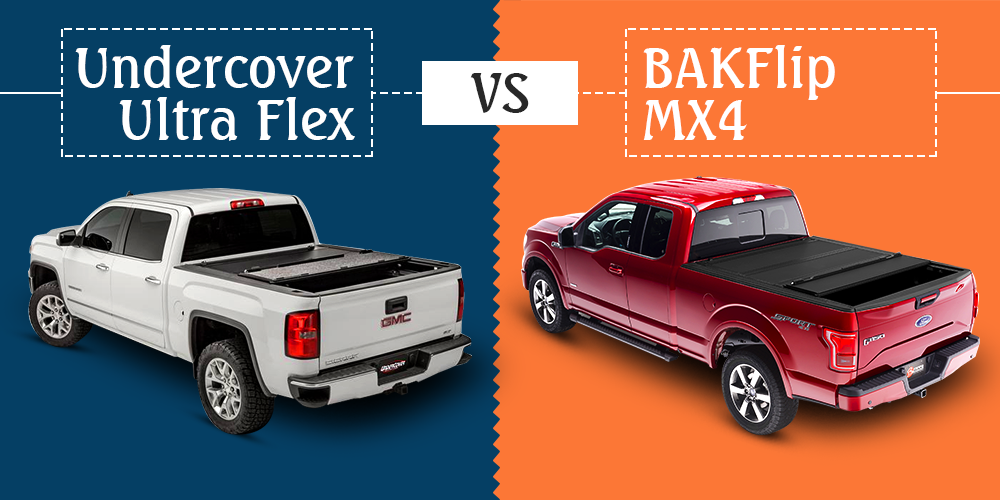 Are you planning on purchasing a hard folding tonneau cover?
Choosing the right hard folding tonneau cover could be tricky if you don't know what you're looking for. That's why you must do some research before the upgrade. You should check the construction, feasibility, efficiency, and durability while searching for the right cover.
The best idea is to compare the latest models and select one that fits your needs.
At present, Undercover Ultra Flex and BAK Flip MX 4 are considered as the best picks for this category. Not only are they manufactured by a reliable brand, but they've got advanced features that accommodate all your needs. You can expect them to protect your truck bed from rough weather and any sneaky thieves who've been eyeing your cargo.
Undercover Ultra Flex vs. BAK Flip MX 4―which one's better?
According to us, both truck bed covers have their pros and cons. We reveal the answer by comparing these top-rated tonneau covers.
Let's have a look:
The Undercover Ultra Flex
Undercover Ultra Flex is an upgraded version of the 'Undercover' series. The hard folding tonneau cover displays some spectacular features that enhance its functionality. For starters the truck cover allows you to secure it in multiple positions effortlessly. This comes across as extremely convenient for drivers who are loading tall cargo (e.g. furniture and bike).
Undercover has a low-key profile that won't stand out amongst your other OEM (Original Equipment Manufacturer). The premium quality aluminum panels eliminate chances of corrosion and help withstand 400 lbs of evenly distributed weight.
The integrated railing system simplifies drainage issues during torrential rain. This allows your cargo to stay safe and dry throughout the journey. Adding to this are LED lights that make the back of the truck visible at night.
The best part is that its many features don't cause any trouble during the installation process. It ensures that you can use the cover without any issues.
The BAKFlip MX4
The Bakflip MX4 is a highly popular bed cover design. The truck cover is made from lightweight aircraft-grade aluminum that's easier to manage than its heavier counterparts. Like the Undercover, its sleek matte finish and the durable design help it protect your truck without dampening your style.
Besides its appearance, you'll be impressed with how well the tonneau cover performs during unpredictable weather. The aluminum panels shield your truck bed and its contents from harsh UV rays. It's also has a rubber seal system and built-in drains that keep your cargo dry at all costs.
Moreover, the EZ-lock system and clamp-installation makes it convenient for regular use. It also gives you full access to the truck bed with the help of its dual-action tailgate. These features make it easier to load and unload the truck. Adding to this is the three-panel segmentation that allows you to use the cover in different positions. It's also got a dual-action tailgate that gives you easy access to the truck bed.
In short, it strikes an ideal balance between feasibility and protection.
Key Features
Here's an extensive comparison of their best features:
1. Design and Appearance
In most cases, truck owners want a tonneau cover that's hard-wearing yet stylish. This is something many manufacturers miss out on.
Luckily, Undercover Ultra Flex and BAK Flip MX4 won't disappoint you here. They both feature a striking black matte finish that works well with most trucks. The scratch-free surface protects the truck covers from external damages. While the flush mounting style ensures that the cover fits inside the truck bed effortlessly.
2. Ease of Use
Undercover Ultra Flex vs. BAK Flip MX 4―which one's user-friendly?
Hard folding tonneau covers are often labeled as being too restrictive. However, these tri-fold models break the stereotypes to offer you comfort and convenience. Both covers are easy to install with a simple clamp-on installation process. They also permit complete access to your truck bed no matter which side of the truck you open it from. With their dual-action tailgate and versatile riding positions, you can use both truck cover in multiple scenarios.
The only difference is that the Undercover Ultra Flex features an integrated LED rail light. It keeps the truck bed illuminated in the dark. This is ideal for owners who are planning an overnight trip.
3. Protection
Can they protect your cargo and truck bed from extreme conditions?
Yes, they can!
These well-crafted tonneau covers are designed to block harmful UV rays and dust from reaching your cargo. They're also built from rust-resistant aluminum that prevents any environmental damage to affect your truck bed and whatever you're carrying. Additionally, both truck covers feature unique waterproofing systems that keep the load dry during rain and snow.
However, Undercover Ultra Flex wins this round due to its carpeted under panels. This characteristic adds a cushioning effect to the truck bed which comes in handy during a bumpy ride.
4. Durability
Undercover Ultra Flex vs. BAK Flip MX 4―which one will last longer?
The tonneau covers are meant to withstand all kinds of weather and external pressure. They can handle 400 lbs of cargo if it's equally distributed and they are weather-resistant too. Plus, the aluminum construction makes them less likely to suffer from corrosion. So on the surface; they rank equally in terms of durability.
However, company warranty for the Undercover Ultra Flex is up to 5 years, while BAK Flip MX 4 is 3 years..
Of course, your usage and the weather conditions will affect its longevity.
Product Specifications
Here's an overview of the special specs of each truck bed cover:
The Undercover Ultra Flex
Matte black finish makes it compatible with most OEM be rails
Tri-fold design with versatile settings
Sturdy aluminum construction that resists corrosion
UV protective cover to keep cargo safe from the sun
Dual-action tailgate for better access
Automatic latching panels for ease
Carpeted under panels to protect your cargo
Shields your freight from the environmental elements
Scratch-proof coating to minimize damages
Includes an LED rail light for nighttime use
Super simple clamp-on installation
Water resistant drainage system
Weight Capacity: 400 lbs
Warranty: 5 years
The BAKFlip MX4
Sleek, stylish black matte finish
Tri-fold panels provide diverse riding positions
Dual-action tailgate for full truck bed access
Ultra-light panels make it more manageable
DIY installation ( no drills or tools necessary)
Scratch resistant coating for superior protection
UV-proof covering protects your cargo from sunlight
Secure latches make it convenient to load/unload cargo
EPDM rubber seals enhance its water resistance
Advanced tailgate designed for feasibility
No slips or damages caused by sliding covers
Weather-resistant design that works for every season
Compatible with your truck's design and other accessories
Weight Capacity: 400 lbs
Warranty: 3 years
The Bottom Line
Undercover Ultra Flex vs. BAK Flip MX4―which one should you get?
Overall, both tonneau covers offer the utmost protection for your vehicle. They're built to withstand all kinds of weather and minimize damage during transportation. Besides, the make and model of the cover you should look at your requirements too.
In that regard, Undercover Ultra Flex is a valuable investment for someone who wants flexibility and durability. The dual-action tailgate and its versatile latching system offer multiple riding positions. The feature ensures that you can prop up the tonneau cover any way you want. The rail lights are like a cherry on top for the truck owner. Best of all, it's got a longer lifetime warranty than BAK Flip MX4 which gives you a sense of assurance that the cover is long lasting.
In contrast, BAK Flip MX 4 is a standard tri-fold design. It's a perfect fit for someone who prefers a low-key cover that is hard-wearing and reliable. The hard folding tonneau cover is as versatile as the former offering full truck bed access and various settings for the ride. This cover gives you the best value for your money and is easier to manage with its EZ lock clamping system. As explained earlier, the low lifetime warranty might tip the scale in Undercover Ultra Flex's favor for some people.
In the end, it all comes down to your preference. You can simply not go wrong with either of these tonneau covers.
So which one would you choose?
Do you want to Upgrade Your Truck?
Look no further than Tonneau Covered! We've got everything from tonneau covers, hitches, and other truck parts. We're also willing to give you expert advice on upgrades, installations, and truck maintenance. So get in touch with us right away!